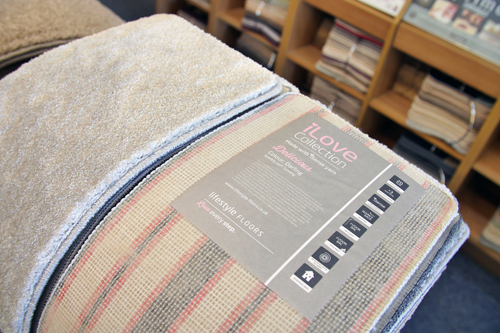 Cut Pile / Twist
The most popular type of carpet is the cut pile. It is created from yarn which has been tightly twisted together. It mainly comes in plain colours and has a mottled textured appearance. The usual make up of these types of carpets are either 80% wool and 20% synthetic fibre, 50% wool and 50% synthetic fibre or all synthetic pile. Twists often come in different pile weights from 30oz upwards and, generally, the higher the weight the heavier wear the carpet will take.
Velvet Pile
This carpet describes exactly how it feels. The Velvet pile has a very smooth, silky feel with an elegant cut pile finish. This is ideal for bedrooms in need of that luxurious and cosy feel. Velvet pile carpet, like velvet fabrics, have a nap and this can become apparent after vacuuming where you will be able to see the light and shade of the pile as it falls in different directions.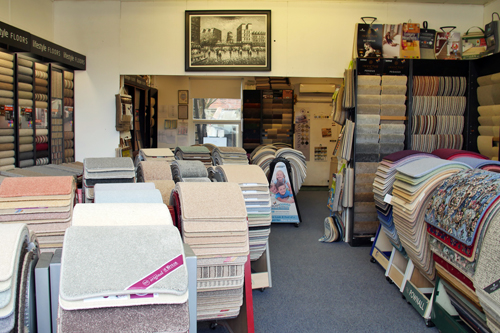 Shag Pile
Shag pile is made in the same way as cut pile, but has much longer tufts for a fantastically luxurious feel.
Berber / Loop Pile
A type of carpet which is excellent for durable all purpose or heavy domestic use, is looped pile carpet – sometimes referred to as a Berber carpet. This type of carpet features a looped pile making it more hard wearing than other carpet types. It is also characterised by a heavier and wider kind of yarn. The loops can either be uniform or different sizes for a more textured look and feel. The yarn too can vary in size. The great thing about looped pile is that it is possible to combine both a varied cut and loop to create a dramatic, sculptured effect to your floor.
Axminster & Wilton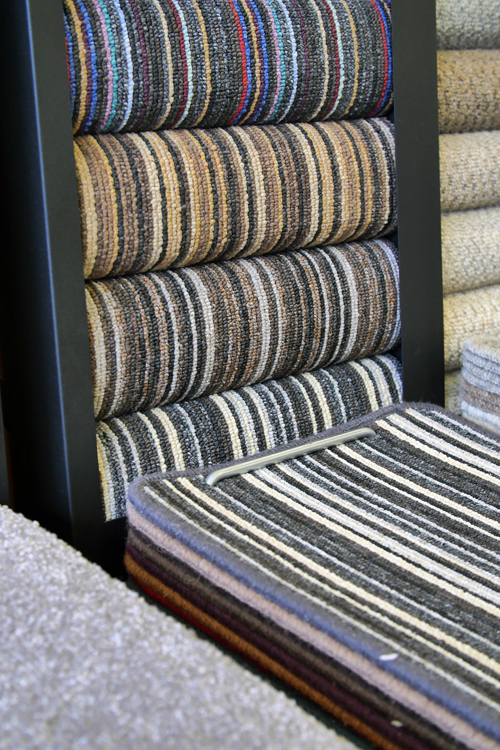 Woven carpets, made in the traditional way on traditional looms.  Very hard-wearing and often used in hotels and restaurants but also fitted in homes.  Many original Axminster designs are still being produced, some dating back to the early 1900s, but today's manufacturers have added very modern designs using this method of carpet manufacture.
Saxony
Saxony is similar to Shag pile in as much as it also features longer tufts than some of the other styles. It can best be described as a dense cut pile and people often favour it for use in bedrooms and living rooms to give that really luxurious feel.
Naturals
Coir, Jute, Seagrass and Sisal and some Sisals mixed with wool.  This flooring is very hard-wearing and looks stylish in both modern and traditional interiors but it can be tricky to clean and can also watermark so suppliers of this flooring recommend that it is treated with a stain inhibitor.  It can also be slippery when fitted on stairs so this should be taken into consideration when choosing a natural for your home.  The fitting of this type of flooring is by the "double stick" method which is different from that of conventional carpets and a different underlay is needed.
Synthetics
From functional to funky. New twist piles designed to look like wool but with stain resisting properties only found in polypropylene carpets.  Budget velours and saxonies in bright colours and neutrals with integral textile backing so underlay is not needed and polypropylene versions of natural fibres.  Also, these are proving popular because of the increase in carpet moth infestations.
Flotex
Flotex is a unique hybrid product which is as cleanable as a hard floor but has the warmth of a carpet and comes in a wide variety of designs and colours.  This flooring is 100% waterproof and hygienic (with an integral anti-microbial treatment to protect against a range of bacteria), has the Allergy UK Seal of Approval and a 20 year wear guarantee.